"Be still, and know that I am God..." Psalm 46:10

Being commanded to "be still" in this verse is such an odd concept? Are we not supposed to FIGHT? What does it mean when we are commanded to "be still"?

Is God restricting our mobility, as fighters? I believe it is a spiritual disposition. It should be a character trait of God's unfailing promises to a person.

The word translated "be still" comes from the Hebrew term raphah. A primitive root; to slacken (in many applications, literal or figurative) -- abate, cease, consume, draw (toward evening), fail, (be) faint, be (wax) feeble, forsake, idle, leave, let alone (go, down), (be) slack, stay, be still, be slothful, (be) weak(-en). See rapha'. This word is found in various forms in the Old Testament, with different shades of meaning. When used of a person (as opposed to some inanimate object) it often has a negative connotation.
Interestingly, being WEAK is COMMANDED? In other contexts, those that don't work are condemned. We are often commanded to take courage and not be weak. However, in those instances, certain obligations were being neglected, and God's people were admonished to take initiative to fulfill their duties.
The reason for this contrast is that there is a BALANCE in serving God. Balance is a good thing; it really does work for the best. There are those who are far from "still." Doing all the work and giving God none of the credit. It's a hard balance to find sometimes, because it's a matter of not wanting to be found "weak!" But isn't that what He commanded us to do? Believing that by "taking courage" I can survive is actually disobedient. I cannot do it all on my own.

Here is the irony in this term "be still." While we must take the initiative to fulfill our responsibilities and live our lives, the uncertainties of living in a world of sin and woe will continually challenge us. I am still trying to figure this out! Where is the line?

This command—"be still"—forces me to think on two things: that we are finite, and that God is infinite. That being the case, we need to drop our hands, go limp, relax, and "chill out." Christian people ought to enjoy a calm confidence in Him who gave us His Son. So, if I am not chill......am I disobeying His command? OUCH!!!
"Since He did not spare even His own Son but gave Him up for us all, won't He also give us everything else?" Romans 8:32. Psalm 46:10 encourages me to reflect on what God can do in the face of what we are unable to do.
This spiritual calm, that God commands, does not come from a lack of troubles; it comes from a steady, deep reflection on the ways God has intervened in the past on behalf of his people
So as your world crumbles around you, the call from Scripture is: don't flinch in faith in God.

Stand still:
—not because of a self-made confidence
—not because you are the most composed person in the face of disaster
—not because "you've seen it all."
Be still because of what you know about God.
HE IS FAITHFUL!

It is God's past that provides calm for our future. Know that He is God!
If you are the last man or woman standing, be still.

"God is our refuge and strength, a very present help in trouble. Therefore we will not fear, though the earth do change" Psalm 46:1-2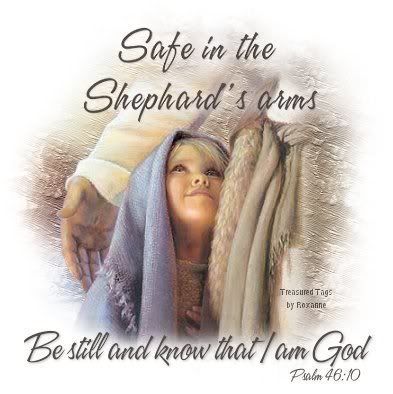 <>