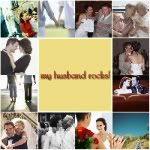 Chains do not hold a marriage together. It is threads, hundreds of tiny threads which sew people together through the years. ~ Simone Signoret
It's been a while, but I guess it's about time that I get back to my Friday posts. If no one agrees, but Josh, then it's still worth it! Love you, Babe!!
The past few weeks have been busy, but it's not that Josh hasn't been an amazing, rockin' husband; it's that I haven't posted anything.
All those tiny threads just add up and then it's hard to pick just ONE to comment about. How do you pick just ONE thing out of a whole month's worth of wonderful things?
Our vacation to Glenwood Springs was beautiful and relaxing. We got to even do a little bit of hiking, which is something I enjoy doing. After one particular outing, my back started to really hurt, and I was walking really slowly. Josh walked ahead, and he got the car to come pick me up. He held my hand lots during our walks, even if I had to remind him to WAIT for me......we walked side by side, many times. Those are the sweet memories I will cherish for a lifetime.
It's not the big huge things that stick out in our marriage, because those things can only carry us so far. It's the phone calls at lunch time, it's the text messages during the day, it's the glances at me when he thinks I didn't see, it's the teasing and poking.....THOSE are what I think about in the day when I want to remember what WE HAVE!!!
You rock, Josh.......for making an ordinary day seem extra-ordinary, just because you ask to hold my hand.
I love you, Josh!!