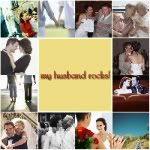 "What makes a happy marriage?"
One man and one woman and the one TRUE God giving 100% to each other in mind, body, soul, and spirit. Seriously, how can you go wrong with that equation? No, really, I am not sure you can......the problem is remembering to DO all of those things. Mind, Body, Soul, and Spirit is a lot to remember.
I have found in almost 10 years of marriage, with MANY ups and downs, that the best times have been when BOTH of us were focused on our relationship with God. When our relationship with God has been made a priority we fall into place. Putting FOCUS on our marriage is what always seems to turn us around. If the happiness of our spouse is made a priority then naturally it turns into a habit. How can your marriage not be happy, if you are making each other happy?
When Josh participated in the Love Dare it was one of the greatest 40 days of our marriage, in my opinion. Everyday may not have been perfect, but it was nice to know that WE were on his mind. I knew that EVERYDAY he was focusing on how our marriage could be better.
I cannot remember the last time Josh and I went away by ourselves on a getaway. We came to Colorado last year, which was a great time.....but we had a 4 month old with us. For Valentine's Day Josh decided that we would take a small vacation during Spring Break. I am very excited. AND I know how much things like this help US. I also know that Satan has been trying to take the joy out of this trip....anyway that he can. Thanks, Josh, for planning our trip! Thanks for putting US at the top of your list. Thanks for keeping things in perspective, so that the joy is not lost in our time alone. I am praying this this will be just the thing we need to take us into a new season of being "happily married!"
For those of you who pray for us, please pray that this weekend trip will be amazing. THAT Satan stops trying to put stress on us, before we go.....thanks to you all!