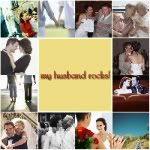 The last few weeks have been very busy, and yes, I did get reminded that I didn't post anything last Friday. Valentinte's Day turned into a weekend of activities. We had desserts and dancing at our church, which turned out to be lots of fun. We had a dance insturctor teaching us a whole bunch of different classical dances. Josh was the perfect dance partner; I couldn't have asked for a more strong capable hand to guide me around. (even blind-folded)
We also went to a yummy restaurant that added a lot of FIRE to the weekend; it was some HOT and SPICY food. It was a great restuarant that only ended up costing us $18.00. We had a gift certificate and then got our appetizer free, since this great restaurant made us wait over an hour to be seated. We planned a movie date, too, which didn't turn out exactly right. We watched Pink Panther 2, not exactly romantic....well, maybe it was!
The greatest thing about the whole weekend was that with some of the things not working out exactly as planned, Josh never got upset. He took it all in stride; we have had a lot of things to do lately. We have a parenting class on Wednesdays, and Josh has been READING the book. I have had doctor's appointments, and he hasn't missed them.
I appreciate how busy he has been, and yet he is still finding the time to do everything else. He knows how to keep his cool and get it all done.
Love you, Babe! You Rock!